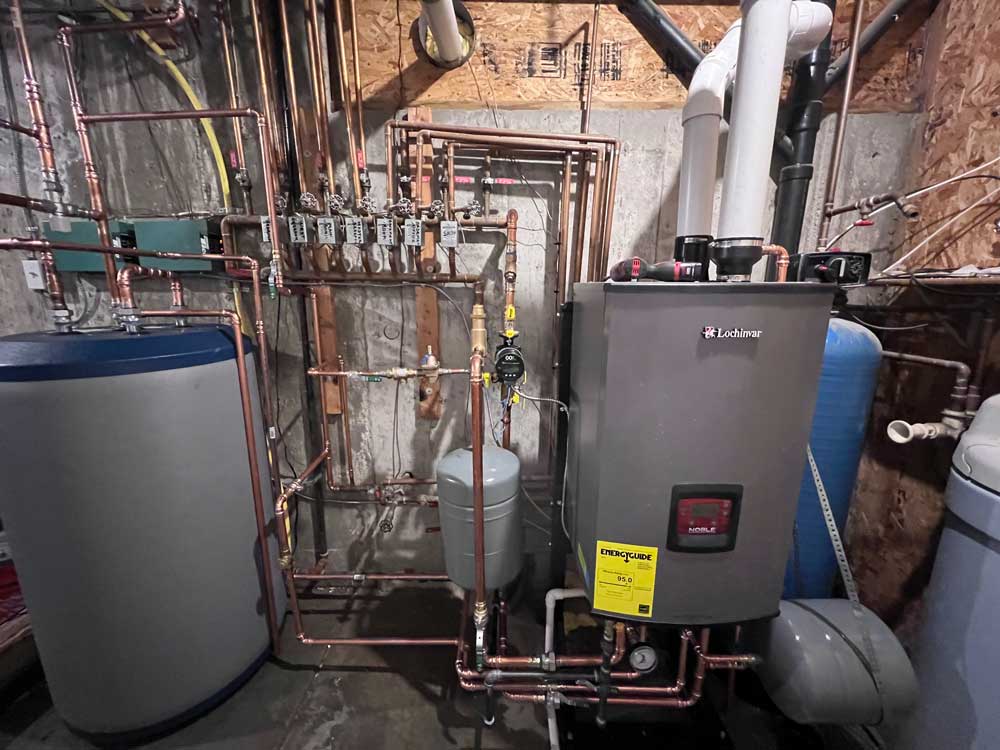 #1 For Boiler Installation & Replacement Company in Denver, CO, with Over 400 5-Star Reviews
Reliable Boiler Service in Denver
As a family-owned and locally operated company, JC Mechanical LLC knows how cold Denver, CO, can get. Our over 500 five-star reviews demonstrate our attention to detail and our expert boiler installation services. 
Our team can assist whether you've never owned a boiler before, are looking to upgrade, or need repairs. We can pair you with the right boiler that matches your budget and home's needs. 
Call our team at JC Mechanical LLC at 720-779-7263 for effective boiler services in Denver, CO!
Why People Search "Boiler Installation Near Me"
Boiler installation has many benefits, especially when handled by our professional crew. 
Longer Lifespans Than Furnaces
More Energy-Efficient
Even Heat Throughout Your Home
Longer Lifespans Than Furnaces
Boilers feature fewer components than traditional furnaces and heat pumps. As a result, you won't have to worry about as many parts breaking down.
A typical furnace lasts between 15 to 20 years. By comparison, a boiler can last up to 30 years. 
More Energy-Efficient
Even Heat Throughout Your Home
Why You Should Consider a Boiler Replacement
Boilers are highly durable, especially when you let our crew perform yearly tune-ups and maintenance inspections. However, they can still wear out, especially when they reach the 20-year mark. By this time, replacing your boiler is often cheaper than trying to repair it. 
While our crew will never pressure you to replace your boiler, we will recommend a boiler replacement when it's the most cost-effective solution. Besides natural wear and tear or extreme malfunctions or breakdowns, Denver, CO, residents may choose a replacement for other reasons, such as the following:
Loud Noises Coming from the Unit
Energy Efficiency
Avoiding Frequent Repairs
Loud Noises Coming from the Unit
A loud banging boiler becomes annoying very quickly. Besides forcing you to plug your ears or turn on the volume on your TV, a noisy boiler indicates other issues. 
Properly functioning boilers are relatively quiet. If it makes loud or strange noises, you may only need repairs, but often a replacement is the better solution.
Energy Efficiency
Avoiding Frequent Repairs
Extend the Life of Your New Boiler with Maintenance Services
Regular maintenance services are the best way to avoid needing premature boiler installation. At JC Mechanical LLC, we provide the following tune-up services: 
Cleaning your boiler, including its burner

Checking and tightening electrical connections 

Checking your seals 

Inspecting safety devices 

Reviewing and correcting gas and water pipework 

Implementing flue gas testing 

Ensuring your boiler is properly functioning 

Clearing any condensate pipe or trap blockages

Adjusting burners utilizing a combustion analyzer (if necessary)
Aside from preventing expensive repairs down the road, these services can also improve your boiler's energy efficiency. As such, we recommend that our team inspect your boiler at least once a year. 
The Best Boiler Installation Near Me
Installing, repairing, or replacing a boiler requires an expert touch. To ensure you're receiving the best boiler installation possible, call our experts at JC Mechanical LLC. Alongside our regular services, we also offer 24/7 emergency assistance. 
Denver, CO, residents can call our team today at 720-779-7263!