Residential HVAC Services Highlands Ranch
When you need HVAC services in Highlands Ranch, choose a company that can not only supply you with the best services but also has a team of experts at their disposal. Experience it yourself by choosing JC Mechanical. 
We are a family-owned company that has been providing residential HVAC repair, maintenance, and installation services in Highlands Ranch for over 30 years. We have a long list of satisfied customers who count on us to keep their homes comfortable year-round. Our technicians are experienced, certified, and well-trained to handle any job quickly, so you don't have to wait around all day for your heat or air conditioning to be fixed. 
We offer 24/7 emergency services and same-day appointments, so you never have to worry about being left out in the cold or sweltering heat again. When it comes to residential HVAC services in Highlands Ranch, we offer:
Contact us at 720-779-7263 for free estimates on all our HVAC services in Highlands Ranch.
AC Repair Services in Highlands Ranch
Your air conditioning system is vital to your home. It keeps you cool in the summer and helps prevent damage to your home by keeping moisture out of your walls and attic.
The best way to ensure your AC works properly is to schedule regular maintenance checks. If you have an older model, it's especially vital to have a technician come out at least once a year. To know if your system needs repairs, check for the following signs.
Loud noises. A defective fan motor or broken components may be the culprit

Water comes from your unit's vents. Check for a leak in the system

Air coming out of your vents feels hot and humid or smells like something is burning. Check for mold growth in the air ducts

Ice or frost on the outside coils of your unit when it's running
When you notice these signs, call JC Mechanical, and we will send one of our experts to your home immediately. They will diagnose any issues with your unit and determine how quickly they can fix them. Then they will get started on repairs while keeping in constant communication with you throughout the process, so there are no surprises or hidden fees involved. And thanks to our 24/7 service, you call us anytime for HVAC service.
Looking for a trustworthy AC repair service in Highlands ranch? Call us now at 720-779-7263.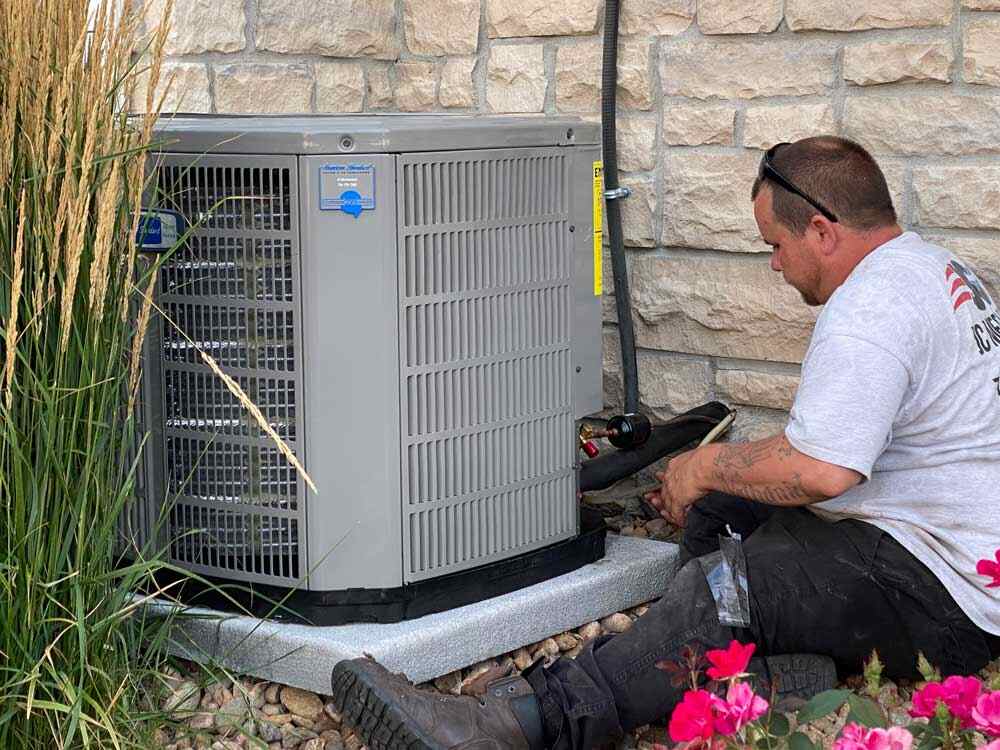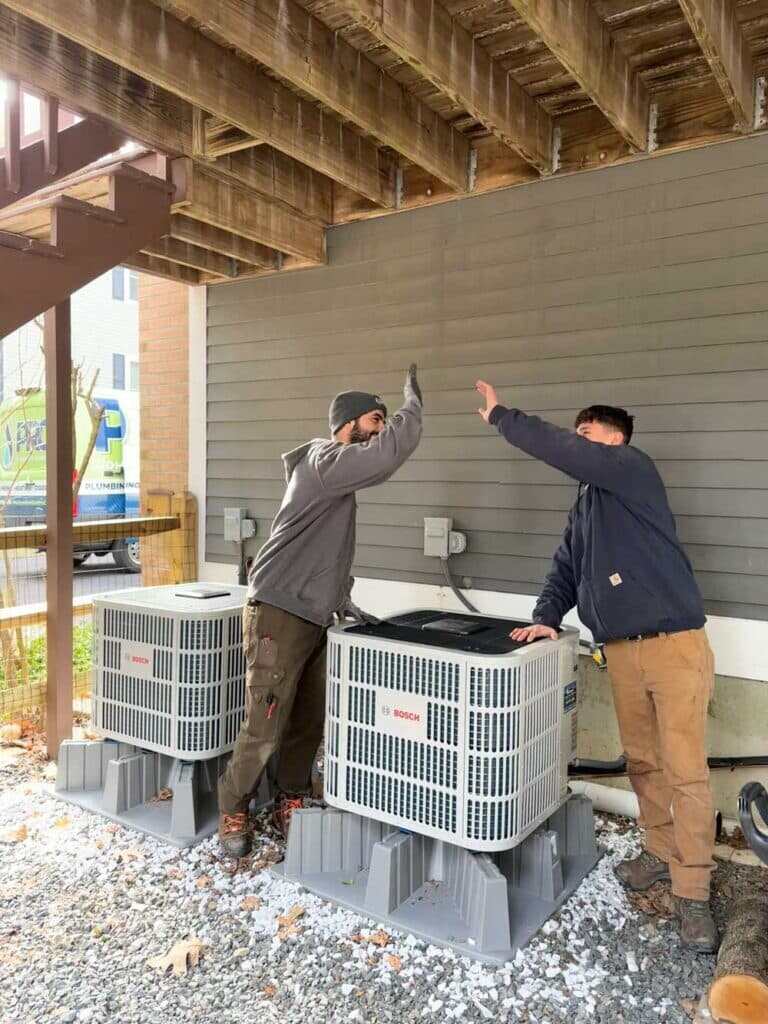 AC Installation Services in Highlands Ranch
The weather in Highlands Ranch is mild and comfortable most of the year. However, there are times when it gets too hot or too cold for comfort. When this happens, you need to install a reliable HVAC system to stay cool or warm all year round. To determine whether or not you need an AC installation service, first understand the benefits of installing one in your home.
Health: A functional AC unit can improve your family's health by preventing asthma attacks, reducing allergies, and providing relief from other respiratory problems

Energy savings: A well-installed AC unit can reduce your energy consumption significantly, which means lower utility bills

Peace of mind: With an AC, you won't have to worry about sudden power outages ruining your home entertainment systems or appliances

Comfort: An efficient air conditioner will keep your indoor environment comfortable all year round without any outside help
JC Mechanical offers top-notch AC installation services tailored to your needs. We can help you choose from a wide range of new models and technologies that will fit your home's style and personality. Whether you want a high-tech model with remote controls and thermostats or a more traditional model with a programmable thermostat and automatic fan control, we've got you. 
We will help you configure your new system so it fits seamlessly into your home design and lifestyle. Then, we will install it quickly so you can enjoy cooler temperatures faster than ever before.
Need a pro to install your AC? Call us at 720-779-7263.
Boiler Repair & Installation Services in Highlands Ranch
You have got a new house, and it's looking great, but it's not as warm as it should be. You are thinking about calling in a repairman to fix the boiler, but you want to do it yourself first, right? We get it. We have been there too. But if you wait too long to call in an HVAC repair professional, you might find yourself stuck with an expensive bill that isn't actually needed. 
Instead of worrying about how much your bill will cost, why not save yourself some cash by learning more about signs indicating that your boiler needs repair? Some of the signs include:
Your boiler makes loud noises when it runs

Your boiler won't heat water

You have a clogged or dirty water line

You see water in your basement or crawlspace
At JC Mechanical, our boiler repair services can help with all your needs. We can get to the root of your problem and fix it right away. From simple repairs to complete overhauls, we've got you covered. 
However, if you have an old boiler, you should replace it. Not only is it inefficient and costly to run, but it also doesn't meet current safety standards. So if your boiler is older than 10 years and hasn't been serviced in a while, it's probably time to replace it with a modern unit. 
With a new boiler, you will also enjoy incredible efficiency, which will save you money on energy bills. The experts at JC Mechanical can help you choose a suitable unit for your home and install it. 
Ready for boiler repair or installation? Call us at 720-779-7263 and see what our team can do for your home.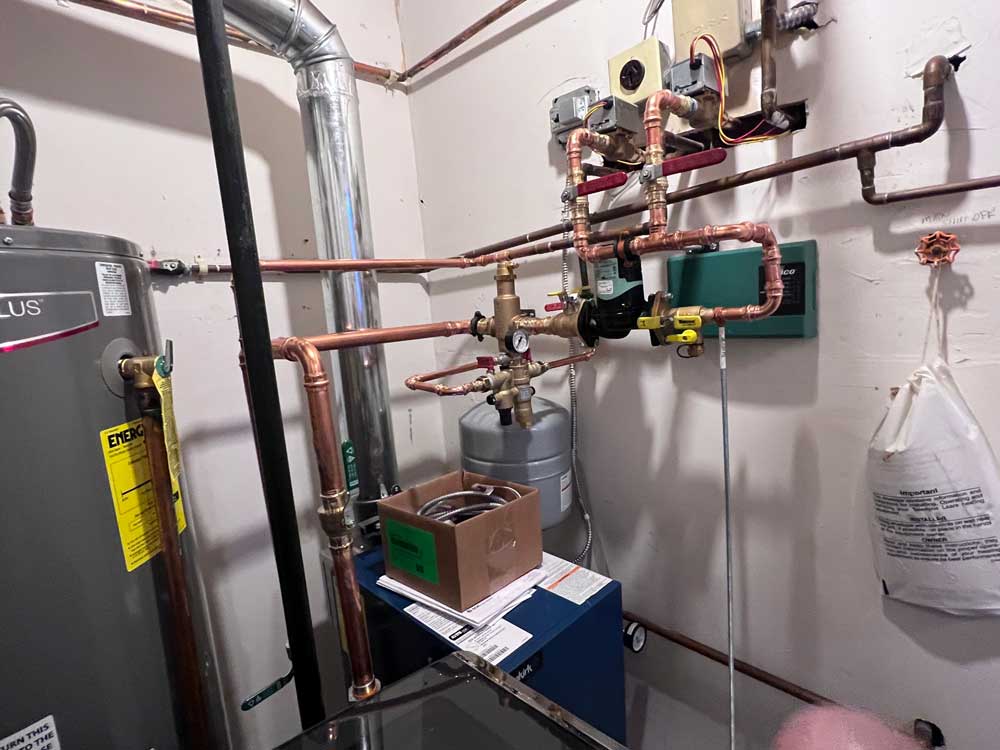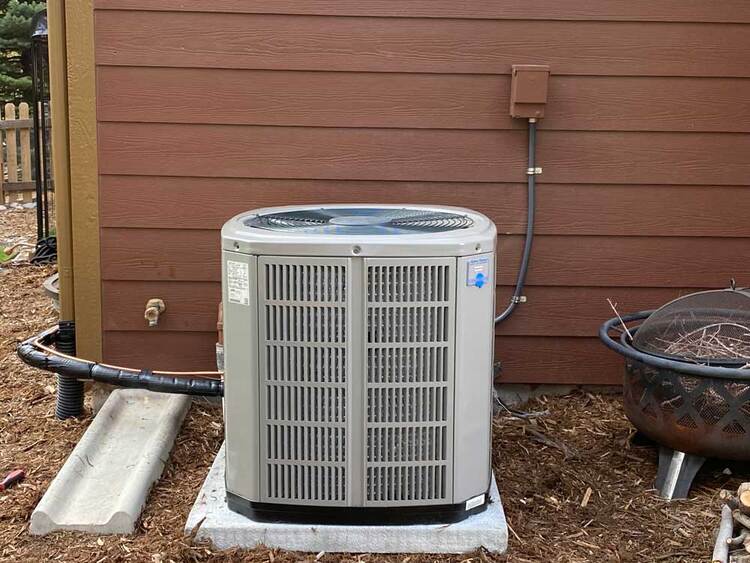 Heat Pump Repair & Installation Services in Highlands Ranch
Heat pumps are the perfect choice for anyone looking to save money on their energy bills. But they are not without their problems. If you have a heat pump, you know it can sometimes be a little temperamental. If you notice any of these signs, it might be time for some repairs.
High electric bill 

Uneven indoor temperature

Loud noises when your unit turns on and off

Black mold or mildew in your ductwork

Your home feels cold or damp

Leaking water or ice build-up in front of the unit
When something seems out of place with your heat pump works, don't wait until something breaks down completely before calling us. Call us, and we will show up, diagnose your system and repair any issues we find. 
You can also trust us with heat pump installation services. Heat pumps have minimal maintenance requirements and require little energy to run, so they don't require extra equipment or installation costs. With a heat pump, you never have to worry about your AC breaking down during the middle of summer again. You can enjoy all of central AC's benefits without any drawbacks. 
When you enlist us for installation, we will take care of all the paperwork and permits needed so we can get right to work on your system. When we are done, you will be ready to enjoy all the benefits of a new heat pump.
For heat pump repair or installation, reach out to us. 
Furnace Repair Services in Highlands Ranch
Your furnace is the heart of your home. It provides heat and helps keep your home warm in the winter and cool in the summer. It cleans your house's air, ensuring you have no mold or mildew problems.
But when it starts acting up, you need to get it fixed as soon as possible. You can't miss the signs that your furnace needs repairs. Some of them include:
Your furnace makes strange noises when running —like a growling, knocking, or banging when the blower motor turns on

Condensation in your basement or crawlspace or mold growing inside your house.

The temperature in your home has gotten colder lately

You smell gas in your home (this might indicate an air leak)

Too much dust collects on the walls and ceilings because of poor ventilation 
If you notice any of these things, call the experts at JC Mechanical. Our technicians will come to your home and diagnose your problem, so you won't have to worry about anything on the day of service. Once we fix the issue, our technicians will leave you with a complete list of the work done on your system so you can ensure everything is running smoothly again.
If you need your furnace repaired, call us today at 720-779-7263.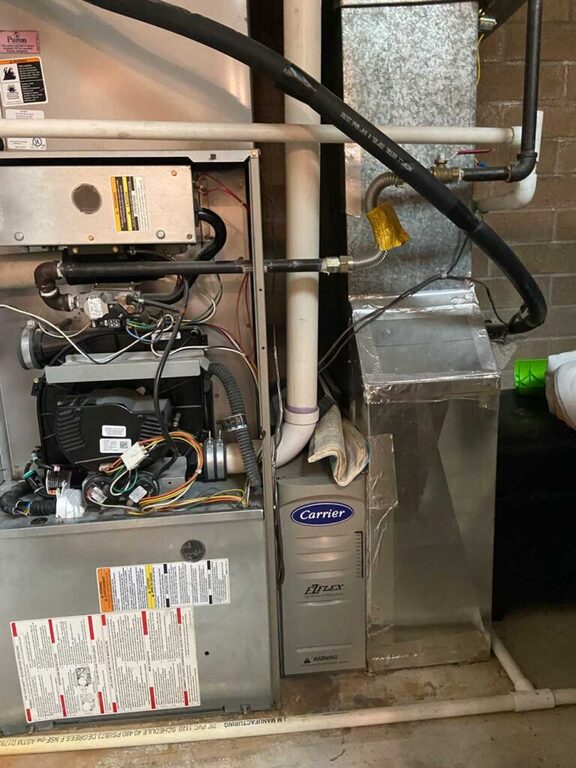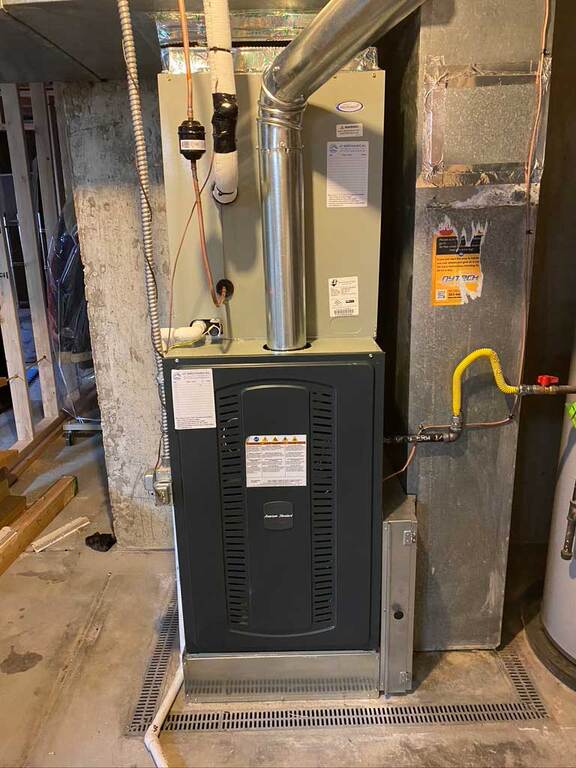 Furnace Installation Services in Highlands Ranch
If you plan to install a furnace in your Highlands ranch home, we have some great news — you can get one that is more energy-efficient and cost-effective than most. It may seem like an investment at first glance, but installing a furnace can turn out to be the best purchase you have ever made for your home. Here are five reasons why.
A new furnace can help you save money on your energy bills. It will also help you reduce the amount of air pollution emitted by your home

If you have pets or children, a new furnace can help reduce allergy symptoms. The heat from the new unit evaporates moisture from the air, which reduces airborne irritants like pollen and dust particles

A new furnace can reduce sound levels by up to 90% compared to a standard model without an air-balancing system installed
At JC Mechanical, our furnace installation services are available 24 hours a day, 7 days a week, 365 days a year. We have many years of experience working on all types of furnace installations, from single-stage units to multi-stage units. 
And if you are concerned about energy efficiency? Don't worry! We use only up-to-date materials and methods when working on our installations, so they will last longer than ever and save you money on energy bills.
Ready to get started on your project? Call us today at 720-779-7263.
Choose JC Mechanical as your HVAC Contractor in Highlands Ranch
At JC Mechanical, we are proud to provide our customers with a full range of HVAC services for your home in Highlands Ranch. Whether you need installation, maintenance, or repair work, we have you covered. Our qualified technicians can handle even the most difficult situations. We guarantee quality work and the best rates on the market, no matter the project's size or scope. And thanks to our 24/7 availability, you can count on us to keep you comfortable all year. 
Contact JC Mechanical online or call 720-779-7263 to schedule residential HVAC service for your Highlands Ranch home.